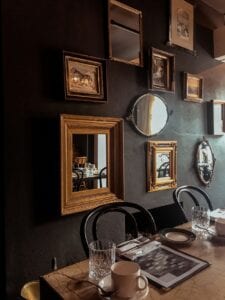 Even today, a feng shui mirror draws controversy. What is not controversial about it though is its ability to reflect light to spots, which needed highlighting and illumination and the visual effects it creates. The beauty that it adds to the house, its decorative value, the extra space it genƒerates and its functionality is both accepted whether by western oriented feng shui thought or the traditional. A feng shui mirror, no matter what the controversy that lies in its efficacy as a feng shui cure, serves a good purpose. Feng shui mirrors should be employed whenever appropriate.
There are two opposing line of thoughts regarding a feng shui mirror. Mainly it lies between whether a feng shui mirror is a cure or not.
For people that contend that it is a cure, they believe that illuminating the house evenly is important in managing the chi. To leave a dark spot in the home and its perimeter would be compromising the chi's distribution. A feng shui mirror also acts as a cure to have them at posts and columns so that the flow of the energy inside a house or an establishment is corrected. The contention is that feng shui mirrors placed in this manner works to deflect bad energy. The manner in which it is used in this way acts similar to the way a pain reliever does to the body.
On the other hand, those who do not believe it to be a cure argues that feng shui is ruled only by five elements, The earth, wood, metal, fire and water as the foundations for curing issues inside an establishment or a house. Feng shui was started long before mirrors were created, what was used to reflect images then were materials that were made of bronze and other metals. To argue then that mirrors are feng shui cures will have no firm foundation in feng shui. Another issue that is advocated is that a mirror, no matter how thick it is never does not contain nor can it hold energy. Its main use is only to bounce a light. As this is a property of a mirror that is not controversial, let us hold this then a source by which a mirror could be used as an important aid in the practice of feng shui.
Even distribution of light inside the house and appropriate illumination, is a very important component of feng shui. When there are zones in the house that could use more light but are not possible with conventional lighting use the feng shui mirror to remedy and brighten up the darker corners and spots.
The following are examples where feng shui mirrors would serve as excellent aids when lighting is insufficient.
The southern portion is the zone of fame. This is where you should highlight your plans and goals and place feng shui symbols that match your dreams. You would not want this portion to be dull.
When the light is not enough, a feng shui mirror could help.
The southeast portion is the area of careers. A rectangular light represents development and growth. If it will be awkward to place a rectangular mirror on the wall, why not try a rectangular feng shui mirror.
The family room is also a good place to add a feng shui mirror.
There are other areas in the room that could use additional light. The reason why it is not mentioned here is that a feng shui mirror might cause a deflection of energy depending on the light that is already present or the objects placed in it. The main point though is, in its own way, a feng shui mirror do serve a good purpose other than just being decorative.